When you are working with the probability that an event could happen, that is called theoretical probability.
For example, when rolling a typical six-sided number cube, there is only one "6" on the cube and an equal chance of any number landing face up.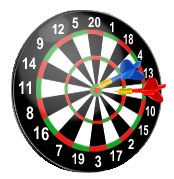 There are other types of probability. Sometimes, a simulation or a series of events has already occurred, and there is data that can be used to make a prediction. If you are estimating probability based on data that has been collected, it is called experimental probability.
For example, if a dart is randomly thrown at a dartboard 40 times, data can be collected based on the numbered sector in which the dart lands.
Dartboard Data

Range of Numbers

Number of Dart Landing
Working with both theoretical and experimental probability is important, since frequently in the real world, what should happen, and what really does happen, are quite different!